Head Coach for Berry College Baseball, David Beasley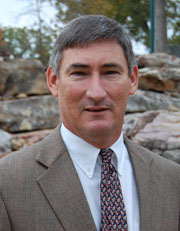 David Beasley returns for a 20th season as the head coach of the Berry baseball program in 2016-17.
In August of 2012, He was promoted to assistant athletic director. In his administrative role, Beasley added athletic department fundraising, booster club and hall of fame duties to his list of responsibilities.
In 2014, Beasley led Berry to a 29-15 overall record and a 14-7 mark in the Southern Athletic Association. He enters the 2015 season with a 519-345-1 overall record. Beasley picked up his 500th career win in a 6-2 victory at Sewanee on March 8, 2014. He has the most wins of any coach in school history.
In 2010, the first year as an NCAA Division III provisional member, Beasley's Vikings finished with a 23-17 overall mark. That season came on the heels of what may have been the best season in school history, which culminated with an appearance in the NAIA World Series.
Under Beasley's guidance, the 2009 Vikings finished the season as regular season champions of the Southern States Athletic Conference with a record of 46-16 with a 22-5 conference mark. The team made the school's first-ever appearance at the NAIA World Series, placing fifth in the national tournament and earning a No. 4 ranking in the final NAIA National Poll, the highest ranking in school history.
It was the most successful season that the coach has known, as the group tied the school record for wins in a season with 46 victories.
In addition to the work on the field, Beasley also emphasizes classroom excellence. In addition to producing 12 All Americans, Berry has had nine Academic All Americans under Coach Beasley.
Beasley has had 14 players move on to play professional baseball. The most recent player to be drafted and sign a professional contract was Collin McHugh, a 14th-round draft pick of the New York Mets. He made his MLB debut in August, 2012 and now pitches for the Houston Astros. Stephen Gaylor 14C is the most recent Viking pro. He is in the Braves' farm system.
Beasley took over the reins of the Berry program in 1998, and promptly began a run of four consecutive 30-plus victory seasons. He led Berry to a 32-17 record in his first season as the team's skipper and has since posted 10 seasons of at least 30 wins. He has also won a TranSouth Tournament title, an SSAC Tournament Title and, most recently, the first regular-season SSAC title in school history.
Under Beasley's leadership, Berry has continued to improve its facilities to become one of the best in college baseball. The latest edition is a 6000 sq. ft. indoor hitting and pitching facility.
A native of Troy, Ala., Beasley played two years of baseball at George C. Wallace Junior College in Selma, Ala., earning All-America honors as a standout third baseman. He then transferred to Huntingdon College where he played under former Berry coach Steve Shartzer.
Beasley graduated from Huntingdon with a bachelor's degree in physical education in 1987, and he earned his master's degree in physical education from Alabama State University in Montgomery. He served as an assistant under Shartzer before taking over as Berry's head coach in the spring of 1998.
Beasley is married to the former Cindy King of Panama City, Fla. They have three children, Heath, Alexis and Dylan, and the family resides in Rome, Ga.