Coach Beasley's Camp Coaching Staff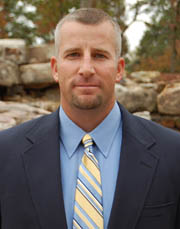 Shane West – Assistant Coach
The 2016-17 academic year marks Shane West's tenth season as a full-time assistant at his alma mater. He serves as the team's recruiting coordinator and outfield instructor and assists head coach David Beasley with the team's hitters.
In his first two seasons back at Berry, West helped lead the Vikings to its two best winning percentages under current head coach David Beasley. The 2009 team made the school's first-ever appearance at the NAIA World Series, placing fifth in the national tournament and earning a No. 4 ranking in the final NAIA National Poll, largely thanks to a .339 team batting average.
In fact, in each of West's first three seasons as a full-time assistant at Berry, the Vikings have been one of the nation's top-hitting clubs, putting together team batting averages of .327 (2008), .339 (2009) and .333 (2010), respectively.
West began his coaching career as a student assistant under Beasley in 2000. He rejoined the Berry coaching staff for the 2007-08 seasons.
West brings a wealth of coaching knowledge into the position, having served in multiple positions before his return to Berry. From 2005-2007, West served as the head baseball coach at Woodland High School, in Cartersville, GA. While head coach of the Wildcat program, he compiled a 43-17 record over two seasons. During those two seasons, the Wildcats won the school's first region championship, in 2006, and made back to back state tournament appearances. The 2007 team boasted a school record 26-6 season, where the Wildcats advanced to the elite-eight of the state tournament
From 2002-2004 West served as an assistant coach with the Georgia State University baseball team. He was the team's infield coach, helping the Panthers set a school record in 2002 with a .962 fielding percentage. During his time at GSU, West coached two of the top-three fielding teams in the school's history.
While working at Georgia State, West also spent time working with both the Georgia Tech and Atlanta Braves grounds crews. He worked on the Atlanta Braves ground crew for three seasons (2002-04) and worked on the Georgia Tech crew in 2005.
Following his time as a student assistant in Mount Berry, West also worked as an assistant at USC-Aiken in 2001.
West played his college baseball at Berry from 1995-1999. During his time with the Vikings he played shortstop and third base and helped lead the Vikings to three Regional Tournament appearances. He was also a member of the 1997 TranSouth Conference Championship team. A native of Knoxville, Ga., West graduated from Berry with a B.S. in Health and Physical Education in 1999. He later earned his masters degree in sport administration/facility management from Georgia State in 2004.
West was married in August 2002 to the former Lori Jackson. They now live in Rome, GA and have two sons, Ripken, born in 2007 and Jackson, born in 2010.