Summer High School Baseball Team Camp
At Berry College – Mt. Berry, Georgia
A TRUE TEAM CAMP EXPERIENCE
-ROPES COURSE -BASEBALL INSTRUCTION -HIKING -BASEBALL GAMES
Experience all of this on the World's Largest Campus, BERRY COLLEGE.
2020 Registration Packets: the following packets will provide you with everything you need to get your baseball team registered for camp.
Session A: June 1-4, 2020 – click here to download.
Session B: June 14-17, 2020 – click here to download.
This year the Berry College Baseball Team will be hosting its 18th annual baseball team camp. Session A will be Monday through Thursday, June 1-4 and Session B will be Sunday through Wednesday, June 14-17. Our team camp will provide the opportunity for your players and coaches to learn and work together during the summer. The ropes course will challenge your team in communicating and trusting each other, while they problem solve throughout the morning. This helps you define who your true leaders are, and make for some great memories as a team. The camp will also expose your player's talents and allow us to evaluate them during our individual practice time, which is held the Sunday evening before the camp and instruction begins.
Starting Monday, during the first half of each day (9:00-11:30am), Berry's coaching staff along with former/current Berry players, will provide instruction that will focus on the fundamentals of the game. Each high school player will be divided into infield, outfield, catching and pitching groups. Team coaches are welcome to participate or just observe. The second half of each day (1:00- 9:00pm), the teams will play one of their scheduled four games. See Camp Schedule Below.
Each team will be provided with camp T-shirts for their players and coaches. Batting cages will be available for all teams to use outside of camp instruction times. Overnight campers will have access to our new indoor pitching facility, hitting cages, gyms, indoor swimming pool (based on availability) and the rest of the 27,000-acre campus (if desired there are other/non-camp team entertainment activities available in Rome: Rome Braves Baseball games, bowling, putt-putt golf, movies, etc…)
Commuters $275
Overnight $410
Each team will be billed for a minimum of 16 players. The first 2 coaches are included.
A non-refundable deposit is required for each team. The deposit will be taken off the balance when your team arrives. Commuter and overnight teams = $1000.00.
Deposits are due by APRIL 1, 2020.
Meals are catered by Berry College Food Service
The Ropes Course is 3 1/2 hours of team building & 1 high element
Cage Center & Richard's Gym tours are optional.
---
Baseball Team Camp 1 Champions
---
Baseball Team Camp 2 Champions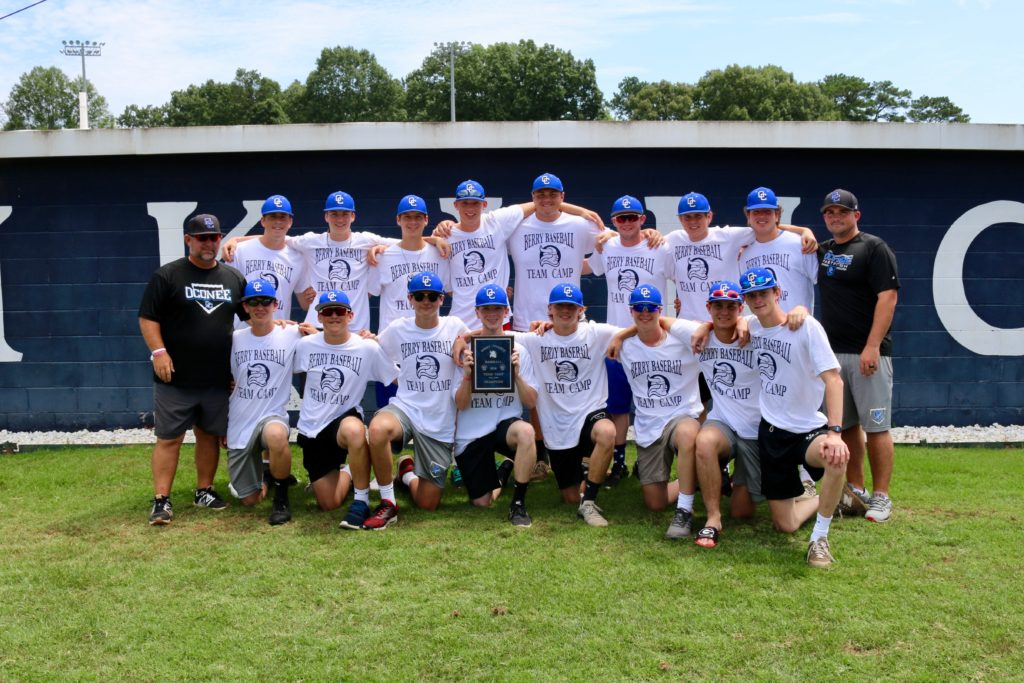 Teams that have participated in the past:
• Armuchee High School
• Bethlehem Christian
• Breman High School
• Callaway High School
• Chattooga High School
• Coosa High School
• East Cobb Angels
• East Cobb Braves (17U Summer Team)
• Forysyth Central High School
• FPD
• Gallatin High School
• Gilmer
• Glenwood Academy
• Habersham High School, GA
• Harris County
• Hillgrove High School
• Hiram High School
• Hiwassee Dam High School, NC
• Houston County, MO
• Jefferson High School
• LaGrange High School
• Lake Gibson High School, FL
• Lamar County High School
• Mary Persons High School
• Model High School
• Norcross High School
• North Cobb High School
• North Georgia Bandits
• Ola High School
• Pepperell High School
• Pisqah High School, AL
• Prince Avenue
• Randolph County
• Rockmart High School
• Rome High School, GA
• Sonarville High School
• Thomasville High School
• Thomson
• Tift County
• Union City
• Woodland High School
---
Rave Reviews!
"The Berry College Team Baseball camp exceeded all the previous camps I have ever taken my teams to. I had every intention of taking my team to different camps through their high school careers, but because of the quality of instruction that the Coaching staff did at this camp, we will return. Each player learns and drills for his position and then the Berry coaching staff instructs each and every team on various team defenses. I applaud Coach Beasley and staff. Great Job!"
Tom Vibbert
Head Coach
Lake Gibson High School
Lakeland, Florida
---
"The Berry College Team Camp experience was more than we could have ever asked for. We have been to a couple of large Division I team's camps and none compare to the Berry College experience. Coach Beasley and their staff put together a top-notch team camp that gave us loads of individual instruction with our players that we hadn't received anywhere else. Our team came out of this camp a better team altogether and we are looking forward to implementing what we learned into this upcoming season. I would highly recommend this camp to any team looking to take their program to the next level. It was definitely worth the ten-hour drive and we will be making the trip back as long as I am in involved in high school baseball."
Brent Hall
Head Baseball Coach
Houston High School
Houston Missouri
---
"We decided to come to Team Camp at Berry College upon the recommendation of a fellow coach and I could not have been more pleased! This camp offers everything that a coach could ask for in a team camp. Coach Beasley and his staff work tirelessly for the duration of the camp to make sure that every team and each player receives thorough and challenging instruction and they do so with an extremely high level of intensity and enthusiasm. Each player is evaluated by the coaching staff and is given feedback for growth and improvement at the end of the week and all of the Berry coaches make themselves available to you, your coaching staff, and your team. The setting for the camp is second to none as you and your players get to experience the beauty of the Berry campus while staying in dorms that are located close to Bowdoin Field which provides a top-notch playing surface. Coach Beasley and his staff truly emphasize the "team" aspect of the camp and there are countless opportunities for team-building both on campus and in the city of Rome. Our team grew tremendously as a result of attending Coach Beasley's Team Camp and we will definitely be returning next year. If you and your players love the game and you desire for your team to have first-class baseball experience, then this is the camp for you!"
Chris Akridge
Special Education
Head Baseball Coach
Habersham Central High School
---
"The 2012 Berry College team camp was a huge benefit to the Model High School baseball team. Coach Beasley and his staff work hard with all of the players at the camp to teach them proper mechanics and knowledge of the game. My kids and my team are now better players and we are a better team because of the team camp. The Model High School baseball team will be back for the 2013 camp and I encourage other teams to participate also."
Brett White
Marketing/WBL Coordinator
Model High School
---
"We have gone to several large Division I Team Camps in the southeast over the years. At neither of these places did we truly find a "team" atmosphere until we came to Berry College. All baseball-related activities and games are played on their game field, not at other high schools or alternate fields. The Berry Baseball Staff really makes every effort to pour their knowledge into your players and spend quality time with each individual. Your team has access to an Olympic size swimming pool, ropes courses, hiking trails and so much more. It allows your team to not only gain baseball knowledge but grow as a team. Our former players that have moved on to college often refer to our three-mile hikes up to the "House of Dreams" where our upcoming seniors give a brief individual speech stating what the program means to them and expectations for the following year. We have been blessed enough to win three consecutive state titles and I feel coming to Team Camp at Berry College is a big part of the reason why."
Tim Fanning
Glenwood High School
---
"The David Beasley Baseball Camp is hands down the absolute best team camp that I have ever attended in the southeast. Coach Beasley and his staff make you and your team feel as you are the only team on campus. The one-on-one attention is second to none, and the overall fundamentals that are taught, whether it be by position or team-oriented, are taught with a high level of energy and enthusiasm. The Mary Persons Baseball program has attended Coach Beasley's Team Camp for the last four years and each year the kids get excited to go back!"

Jonathan Gastley, Ed.S.
Head Baseball Coach
Mary Persons High School
Forsyth, Georgia
---
"I want to say thank you for offering such a terrific baseball camp. After seeing and participating in other camps across the southeast, including some Division I schools, I can say without any hesitation, your camp offers the best camp experience, instruction, and team building that I have seen! The first thing that I look for in a camp is the level of instruction that is being offered to my players. You and your staff of coaches and players do an outstanding job of being hands-on. I really think the way you limit the number of teams that attend your camp is a very thought-out process. The limited number of teams ensures me that the camper per camp instructor ratio is where each individual can get the most bang for their buck. I want to also mention that your trainers and medical staff do an excellent job of taking care of the players while they're on campus and in your care at Berry College. They do a good job of keeping the campers hydrated and attended to if they have any minor injuries while there. I certainly look forward to many more summers of bringing my players up to Berry College."
Sincerely,

Coach Greg Williams
Lamar Co. High School
Barnesville, GA
---
"We have been coming to team camp for the last six years. I have worked and gone to others and very few other camps compare. Many team camps are just playing games and giving players a chance to showcase their talents in front of college coaches. The Berry Team Camp goes above and beyond that with instruction in the mornings, followed by games after lunch. We have come back year after year because of the level of instruction and drills that our kids get for hours each day. The Berry Coaching staff's hands-on approach to drills pushed every player on our team each day. Whether you're talking about incoming freshman or next years seniors they push them to get better each and every day. Each day the players get to work on skills that are specific for their position(s), and can later display in the games.

The week typically starts with a showcase setting where the players are scored and rated based on their performance. The coaches take those ratings and add notes to them throughout the week. At the end of the week, the Teams are given that data and are able to see how college coaches who have spent a week with them rate their abilities. This is more feedback than you would get anywhere else. The entire week gives a team the chance to get away and live in the dorms and get a taste of college life from an athletic standpoint."

Corey Gochee
Head Baseball Coach
Woodland High School
---
"We had the opportunity to bring our JV and varsity teams to the David Beasley Team Baseball Camp this past summer and we will most certainly return in the future. While games are played, the primary focus is on instruction ranging from individual skills to team play both offensively and defensively. Coach Beasley has great staff who actively assist in the instruction. If you are looking for a no-nonsense baseball camp that focuses on the fundamentals of the game then this is the camp for you."

Erik McDougald
Thomasville High School
Thomasville, GA